PRACTICAL INFORMATION
HOW TO GET TO CRAIOVA?
Travel by plane


I. From most European countries the easiest way of reaching Romania is by plane, since flying is fast, comfortable and once you have checked in it is virtually impossible to get lost. There are flights from all over the world to Bucharest, the capital of Romania. To reach Craiova you can take an intercity train.

The international airports located in Bucharest are:
"Henri Coanda" International Airport, Bucharest Otopeni. Please visit www.otp-airport.ro
"Aurel Vlaicu" International Airport, Bucharest Baneasa – if you choose low-cost companies. Please visit www.baneasa-airport.ro
It is advisable to take an intercity train from Bucharest "Gara de Nord" Station to Craiova. For further details and reservations, please visit www.cfrcalatori.ro
Upon enrollment to the University of Craiova, students receive a Student Card allowing transport discount.
II. Another possibility is to land on the International Airport of Craiova, providing direct flights to many cities across Europe. For further details please visit www.aeroportcraiova.ro or www.carpatair.com
Travel by train
Craiova is a major railway centre connected to all the other major Romanian cities. The city is situated on the main line crossing Romania from East to West and linking Timisoara to Bucharest. You can easily reach Craiova by train - from Paris, Munich, Budapest, Thessaloniki, etc. The railway station is located in the North area, from where you can take a bus or a taxi to the University.
Travel by car
Craiova is situated at the junction of the European routes E70, E79 and E574. The customs offices are located in Bechet, Calafat, Giurgiu and Turnu Magurele at the Bulgarian border, in Drobeta Turnu-Severin and Jimbolia at the Serbian border, and in Nadlac, Bors and Cenat at the Hungarian border.
Foreigners driving a car to Romania are required to hold a valid international driving licence. Car registration and insurance papers are also compulsory. Driving is on the right-hand side and the seat belt is compulsory. The speed limit within residential areas is 50 km/h, 90 km/h on national routes, 120 km/h on the highways.
LOCAL PUBLIC TRANSPORT AND TAXI
In Craiova, public transport is ensured by local buses and trams. The public transport in Craiova consists of 3 trolley tram lines and 17 bus lines. One ticket costs around €0.5. You can buy a reduced-fare season ticket by virtue of your Student Card. Most buses run until 22.00 and trams until 23.30. For further details on the routes and timetables, please visit http://www.rat-craiova.ro/index.php
Taxi services are relatively cheap and comfortable, amounting to a maximum of €1-€2 (around €0.3/km). The most popular taxi services are provided by Romnicon (40 251 421.919), PML (40 251 542.727), PMI (40 251 590.002), Taxi Favorit - (40 251 411.500) etc.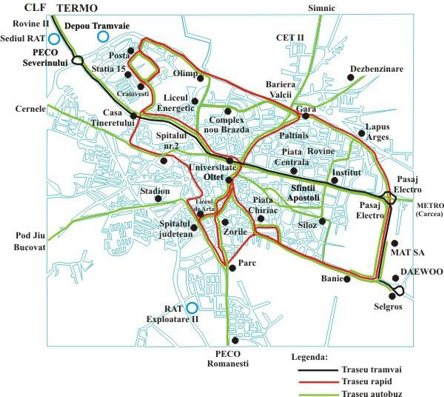 THE FIRST ARRANGEMENTS
Upon arrival, please contact the ERASMUS Coordinator of the faculty (you should make an appointment in due time) for assistance with accommodation and details on the university and the city.

During the following days you are expected at the International Relations Office where the officer in charge with International incoming students - Claudia Girbovan - will provide assistance with your enrollment, information on the Romanian Language Classes and other aspects concerning your stay here.

The required registration documents are:
Application Form
Learning Agreement or Training Agreement
Passport or ID Card
Health Insurance
An application form on behalf of your home faculty
Upon registration, you will automatically receive a Student Card allowing for substantial discounts when travelling, using various facilities of the university, etc.
ACCOMMODATION
As far as accommodation in Craiova is concerned, Erasmus incoming students and other international students have two basic options. They should indicate their intention of staying at a student hostel in the application, or seek alternative accommodation upon arrival.
I. Student Hostel Accommodation
It is a straightforward option for Erasmus incomers to reserve a place in a hostel double room in the application form. There are three student hostels located in different areas of the city within walking distance from the faculties of the University as well as from the city centre. The rooms available for students during the academic year are of comfortable, newly redecorated, with internet access, TV cable, refrigerator and their own bathroom. Bedclothes are supplied. There is a small kitchen, provided with an electric oven, on every floor.
Every room will accommodate 2 students. We cannot offer a room for a single student due to the short supply and the large demand for rooms. Besides, we value the additional multi-cultural experience that results from incomers of different nationalities sharing a room in an environment that is equally unfamiliar to them!
Rooms can be rented at a reasonable price: 230 lei/month/student + utilities, amounting to 70-80 EUR/month/student.
For further information, please contact the Erasmus Coordinator of the faculty or the International Relations Office – claudiagirbovan@central.ucv.ro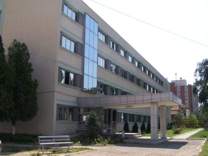 The Hostel
| | |
| --- | --- |
| The room | The room |
| Hostel's hall | Hostel's hall |
II. Rented Accommodation
Rented flats are an alternative for incoming students requesting high quality accommodation. Although renting a flat involves risk and uncertainty, it can provide comfort and privacy. Prices range between approximately 200 EUR/student (2 persons allowed) for a furnished flat with gas heating, located near the city centre and/or the faculties of the University.
VISA/ RESIDENCE PERMIT
Students coming from EU countries do not need a visa from the Romanian Embassy of their home countries. In the case of students from non-EU countries, a representative of the host faculty will take charge of all the procedure for the Residence permit.
LOCAL TIME
GMT + 2h
CURRENCY
The official Romanian currency is LEU (singular form), LEI (plural form) (LEU/LEI, RON).
Coins: BANI 5, 10, 50.
1 LEU = 100 BANI
Bank notes: LEI 1, 5, 10, 50, 100, 200, 500.
Exchange rate: 1 EUR = approx. 4.1 LEI
You can exchange money at the bank or at exchange houses. Bank cards are increasingly being accepted. You should by no means exchange money in the street!
POSTAL SERVICES & TELEPHONE
Post offices display a postal horn symbol and the word "Posta".
EMERGENCY SERVICES
Emergency call centre: 112
Ambulance: 112
Fire department: 112
Police: 112
The above phone number is free of charge.
MAIN POST OFFICE
Address: 54, Unirii St.
Telephone: (251) 523.520
Open: Mon. – Fri. 7:00 a.m. – 8:00 p.m.; Sat. 8:00 a.m. – 2:00 p.m.; Closed Sun.
MAKING A CALL TO ROMANIA
International dial code of Romania (40) + Area code of Craiova (251 or 351) + telephone number (six digit numbers)