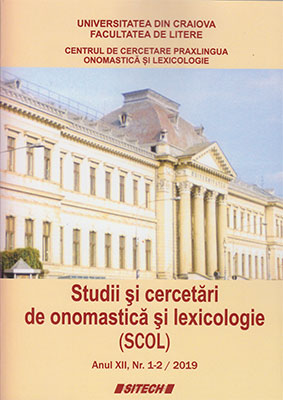 HOME
Journal: Studies and Research in Onomastics and Lexicology(SCOL)
Address: University of Craiova, 13-15 A.I. Cuza Street, 200585, Dolj, Romania
ISSN: 2065-7161
ISSN online: 2247-7330
Domain: Linguistics
Type of publication: scientific/academic
http://cis01.central.ucv.ro/revista_scol/index_en.html
GENERAL DESCRIPTION
Studies and Research in Onomastics and Lexicology (SCOL),   an annual publication since 2008, continues the tradition of onomastics research at the University of Craiova, research initiated by the late Professor Gheorghe Bolocan, who managed the journal Studies and Research in Onomastics (1995-2003).
As constant fields of interest for linguists, onomastics and lexicology reflect the unity and diversity of language, both synchronically and diachronically. In SCOL, the two domains are delimitated, although their interference is often obvious.
The journal contains articles, book reviews and presentations, thus offering the opportunity for Romanian as well as foreign philologists (researchers, teachers, doctoral and master's students) to highlight onomastic and lexicological issues in the European space. Under the heading Academica, one can find updated information on national and international scientific events, on topics related to onomastics, lexicology and terminology. Under the heading Recent publications, readers can find out the latest publications in these domains, as well as in related fields.
Following the CNCS evaluation process in December 2012, the SCOL journal was ranked as a class B journal.