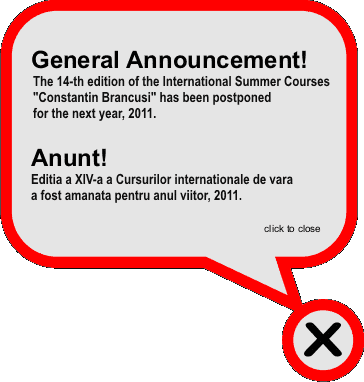 Programme for the summer courses
PROVISIONAL PROGRAMME
To be updated.
Classes in Romanian language

1. Beginners
At the end of this module, the students are expected to be able to formulate and understand simple sentences, relating to basic needs and forms of politeness. The students will then be able to communicate, both in writing and orally, in simple situations.
2. Intermediate
The students will aquire specific and general knowledge with and emplasis on conversational skills, by means of creative activities and linguistic games.
3. Advanced
The students will improve their communication skills and will be able to practice communication in complex situations; they will also be able to exploit a comprehensive and reliable mastery of a very wide range of language to formulate thoughts precisely and eliminate ambiguity.
CULTURAL AND TURISTIC PROGRAMME
Romanian movies
theatrical performances
course in Romanian popular dances
tasting Romanian wines
Every weekend there will be trips to beautiful sights and historical places of Oltenia: Targu Jiu and Hobita for participants to admire some of Constantin Brancusi's sculptures; the Northern part of Oltenia with its caves and monasteries; Curtea de Arges, Arges Monastery, Vidraru Dam; following Vlad Tepes's footsteps at Poenari Citadel and Bran Castle in Transylvania; and also to Bucharest, the capital of Romania.
In Oltenia and Walachia, you may discover true architectural treasures of stone and wood, hundred-year-old wayside crosses and parental houses with porch and monumental gates, pottery from Horezu and Oboga, dances and folk costumes scrupulously sewed. In the area of Arge? those passionate about tourism may enjoy a holiday program including hikes on mountain paths and trips to the cave and the gorges of Dambovicioara, at Ursilor Cave and Valea Cheii.
Field Trips:
The Romanian sculptor Constantin Brancusi (1876-1957) was a central figure of the modern movement and a pioneer of abstraction. His sculpture is noted for its visual elegance and sensitive use of materials, combining the directness of peasant carving with the sophistication of the Parisian avant-garde. After attending the Bucharest School of Fine Arts and learning of the sculpture of August Rodin, Brancusi traveled to Paris in 1904. Brancusi created his first major work, The Kiss, in 1908. From this time his sculpture became increasingly abstract, moving from the disembodied head of Sleeping Muse to the virtually featureless Beginning of the World and from the formal figure of the legendary bird Maiastra to numerous versions of the ethereal Bird in Space. Brancusi's sculpture gained international notoriety at the 1913 Armory Show in New York, a city that he visited four times and where his work frequently would be exhibited. In his Paris studio Brancusi devoted great attention to the arrangement of his sculptures, documenting individual works and their installation in an important body of photographs. In the 1930s Brancusi worked on two ambitious public sculpture projects, an unrealized temple in India for the Maharajah of Indore and the installation at Tirgu Jiu, Romania, of his Gate of the Kiss, Table of Silence and a 100-foot tall cast iron version of Endless Column.
Cozia Monastery (Valcea County). Located 23 km away from Ramnicu Valcea, the monastery is the most beautiful legacy of the ruler Mircea the Old. Built in 1388, the place bears the mark of Wallachian architecture, shaped by Byzantine influences. Within the museum of the monastery one may find today collections of icons, coins and books.
Govora Monastery (Valcea County) is located 17 km away from Ramnicu Valcea. The first church, built at the beginning of the 15th century by Vlad Dracul (father of Vlad Tepes), was restored and extended several times up until the 10th century. Later on, in 1710, the ruler Constantin Brancoveanu decorated the interior with paintings in the artistic style that bears his name.
Arnota Monastery (Valcea County). Legend has it that the ruler Matei Basarab decided to build this monastery on the site of the household where he found shelter in a difficult time, that is he was chased by the Turks. Today, Arnota monastery is one of Romania's most valuable monuments, famous for its architectural style, sculptures and paintings.
Tismana Monastery (1377), built on a rock, 36 km away from Targu-Jiu.
Bucharest, the capital of Romania